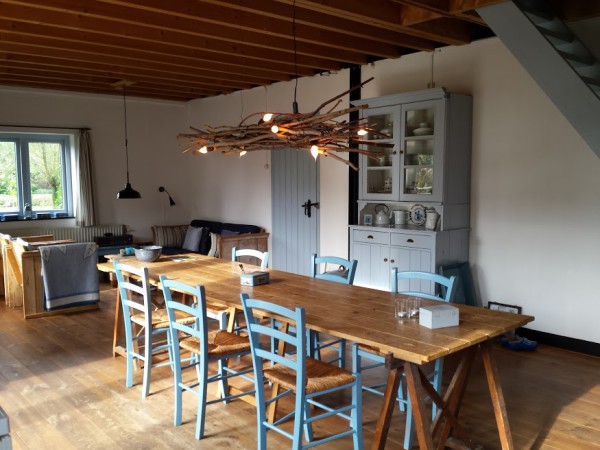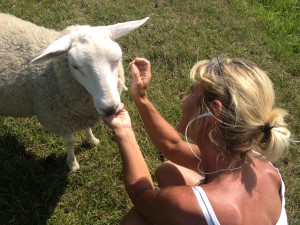 We enjoyed so much staying at B&B Heerlijkheyd (in Polsbroek between  Rotterdam and Utrecht) that I've decided not only to write about it but also to ask a few questions to Anita van Leyden-Landgraf, the owner, to know more about the place, the furniture and the surroundings. Here you can find her answers in English (se preferisci, ecco il post tradotto in italiano).
Tell me about the history of Heerlijkheyd: what was it before becoming a charming Bed & Breakfast?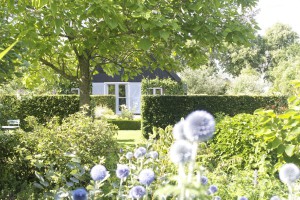 At the place of the barn, where now the B & B is, there used to be a barn with cows and sheep. The stable was in a bad state when we moved here and in 2000 we had to demolish the barn and build a new one. The old barn stood in a meadow that I have slowly transformed into a garden and vegetable garden. In spring and summer, I worked a lot in the new garden and in a part of the barn, we therefore made a small kitchen and a toilet. I could stay there all day working as a gardener 🙂 After a few years of hard work we didn't use the stable so much anymore and that was a pity. The plan arose to create a B & B so guests could enjoy the place all year round.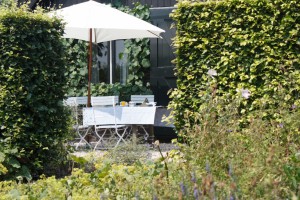 What about the choices of the renovation of the house: how did you choose materials and furniture?
We have laid the floors, made furniture, made a sleeping room upstairs, a staircase etc. etc. We basically made everything ourselves, often from old materials we still had. The sofa and chairs are made for example of old cheese boards where the cheeses are maturing on here in Netherlands and every Dutchman recognizes the stove and the old pots and pans on the old pot rack! (Family inheritance)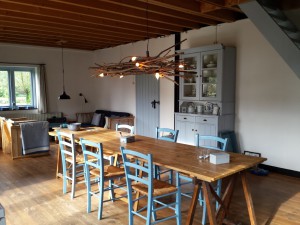 Which kind of people choose your B&B while visiting The Netherlands?
Most off the guests I get are  20-30 years old without children or 50-70 years old whose children no longer live at home and that's of course because I only have one bedroom. About 80% of my guests are Dutch and coming from bigger cities. The rest of the guests come from all over the world and this number is increasing every year! During the summer holidays I get more families with children and it is possible to put two extra single beds in the bedroom.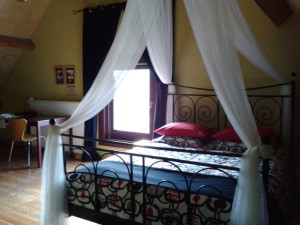 What do you suggest to see and visit near your B&B ? 
Oudewater and Schoonhoven are two cities nearby (7 km) and they both have museums! Oudewater has a Witch museum and a Rope museum. Schoonhoven is known for its Silvermuseum. Gouda is about 16 km from here and is known for its cheese, stroopwafels (cookies) and candles. It also has a museum!
Polsbroek is located between Utrecht and Rotterdam. Both towns are reachable within 40 minutes.
Let us know if you've decided to sleep at Bed & Breakfast Heerlijkheyd after reading this post and send us your feedback: we are curious! Vai qui se vuoi leggere l'intervista ad Anita in italiano.
Bed & Breakfast Heerlijkheyd held by Anita van Leyden-Landgraf address Zuidzijdseweg 160 in Polsbroek – on the website you can see availability and book directly.