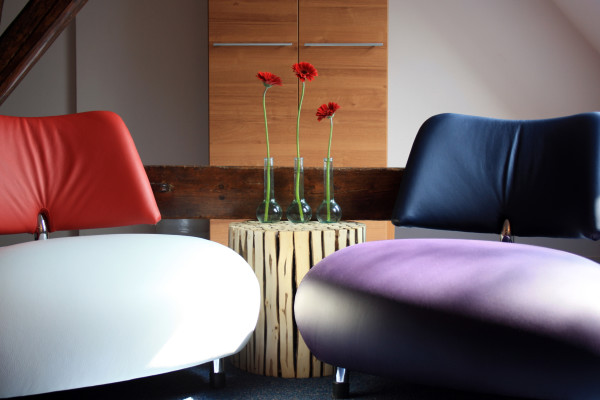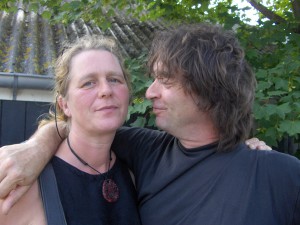 It was hard task finding a good hotel in Frisia where we decided to stay a couple of nights to visit one of the Frisian islands and enjoy Leeuwarden life. But it was enough to move a few kilometers from the city to discover a unique charming relaxing and full of history and contemporary design items hotel and delicious restaurant, WeidumerHout.
Its owner's welcome was so warm and fascinating, showing us with passion the building, our room and the garden, that when back to Italy I've asked them a few questions to know (and let you know) more about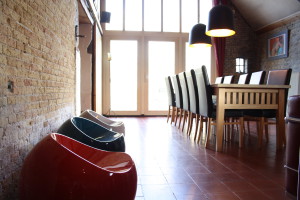 the place and its details. Here are Eddy de Boer and Geke van der Hem story of the place and descriptions of all the restoring hard work to give him a new life:
Because our adventure with WeidumerHout already started about 32 years age, our story is not so very easy to tell in some words. We bought this old farmhouse in 1983. Until then it has always been a dairy farm, built in 1867 and changed and adjusted to the changing times ever since.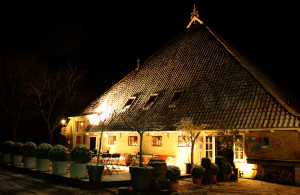 When we bought it we had to do a lot of reconstruction work before it was, at a certain level, liveable. At the moment we finished this first  stage in the private part, we went on an builded our first four unpretentious guest rooms in the former  stables. As soon as these rooms were ready a small piece of land, behind our farm was offered to us, and we purchased it. The communal gouvernment was part of the negociators and we received a permission to start on this piece of land a camping as well. 
In 1990 (this year 25 years ago) we started with 4  rooms and a campingsite with about 30 pitches, a terrace and a lobby. Ever since we changed things or added functions, for example in one winter 4 new and extra rooms, another year the library and again another winter a sauna together with 2 more rooms (one of these was the room you were in).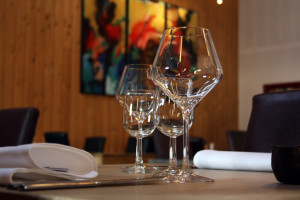 Somewhere in this history we started to serve meals as well. In 2006 – 2007 winter, we builded our present restaurant together with a new profesional kitchen and we started with an extra cook. Our way of serving did not change: still a daily three-course menu but, from this time, on a daily choice between meat and fish as main course. In this way we could continue using only fresh products.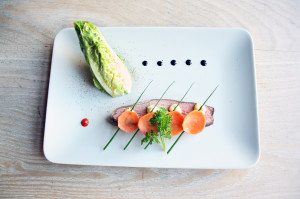 One year later, we received a nomination as the most beautiful small camping in Europe. We won this prestigious ANWB-award  at the same moment that we could buy a new piece of land . We renewed and increased our camping to 48 pitches. After this we started to renovate the existing  10 rooms to gain a three-star-plus hotel classification, which we already had for the camping  In our continuous aim to raise quality, our restaurant has to improve as well.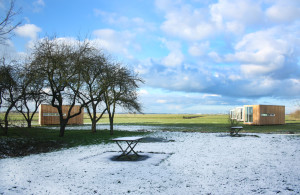 At this moment our son Machiel and his partner Sarah are responsible for the restaurant. Machiel  is a well formed chef with excellent references and has already a lot of experience.
As many of our restaurant guests are guests from our hotel, to increase their number, we needed more hotel rooms. This is where we started Outside-Inn, rooms-with-a view, in 2014. Outside-Inn have the following main features: one room in each of the five buildings, stand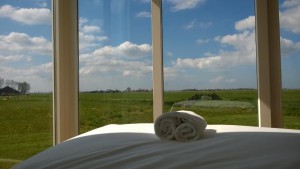 alone in the meadow with its big windows (5×3 mtr) a Kingsize bed 180×210 made by Avek and Geberit aquaclean toilet. They are very well isolated , so very comfortable not only in the summer but also in winter.
As you can see WeidumerHout is more an evolution rather than a rational planned action.
Can you please describe the best pieces of your contemporary design interior decorations?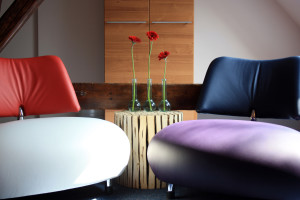 In all our rooms, except Outside-Inn we used (the coloured leather armchairs) Pallone made by Leolux (a Dutch furniture designer).
In the Bar/lounge: Bauhaus style, for example Corbussier LC2 chair and Marcel Breuer table.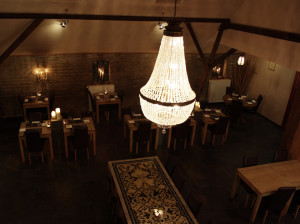 Our restaurant has been decorated with a handmade chandelier and a big table with eggshell, mother-of Pearl and gold foil, big painting by the artist Bep Mulder Lamberthus (look here)
Which are the most interesting things to see and do in your region while sleeping at WeidemerHout?
You can visit Leeuwarden, capital of Friesland at 6 km.and in 2018 European Capital of Culture, with the new Fries Museum, the famous museum of ceramics Prinsessenhof and the Oldehove and you can also visit to the Planetarium in Franeker.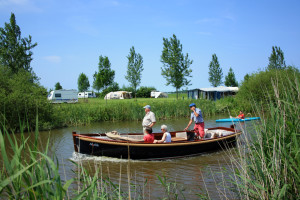 You can join cycle tours starting at our place (see www.route.nl)  or, if possible, in winter tours on skates (in this page, the story of Elfstedentocht, 200 kms skating tours).
Nearby at 3 km. Uniastate in Bears (a small bears state with a fascinating history)
Thank you Eddy and Geke for the time spent in answering to my questions! Now we love more WeidumerHout and we look forward to coming back soon! If you want to read this interview in Italian, wait till tomorrow 🙂
Weidumerhout indirizzo Dekemawei 9 nella località Weidum a 10km da Leeuwarden.
Do you want to know where we went before? Here is this post (in English) about Heerlijkheyd Bed & Breakfast.