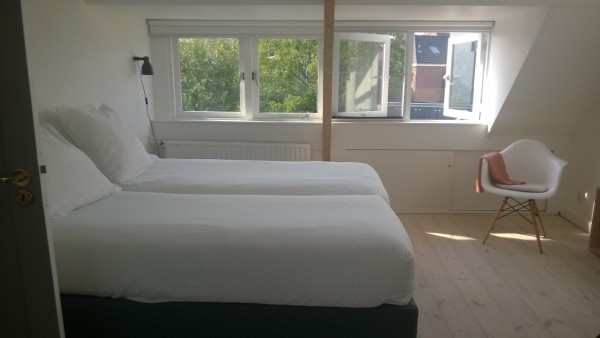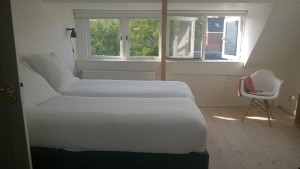 After a day spent at Efteling leisure park, we loved to arrive in Eindhoven and settling in an amazing contemporary design Bed & Breakfast called Studio nr 7. From the outside, it looked like a garage and Fabio was sceptical but when our host Jephte opened the door and showed us our room with a view on Eindhoven roofs equipped with all the latest technological features (Netflix, wifi, etc) and a big essential bathroom we definitely loved it!!!
That's why I've decided to interview Jephte: to know more about here mini-super B&B (pleasant but completely different from the previous here B&B Heerlijkheyd and here hotel WeidumerHout), its history and interior design elements and to receive a few suggestions of what to do and see in Eindhoven while sleeping at her place.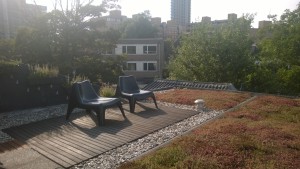 – Why have you decided to transform the upper floor of your house into a small design B&B and which kind of hosts do you have?
Studio nr. 7 is a unique Dutch Design Bed & Breakfast property, and enjoys a fine location just in the heart of Eindhoven, The Netherlands. Featuring spacious, minimalist avant-garde design, Studio Nr7 accommodation is light and cosy and features all modern comforts, including electronically adjustable beds, complimentary Wi-Fi and tea and coffee making facilities. Freshly baked bread is served every morning at breakfast, and guests can relax on the private rooftop terrace, weather permitting.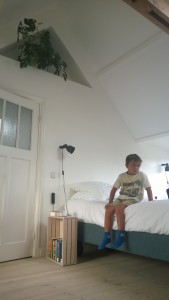 The property itself used to be a printing office, long time ago. This explains the unique shape of the building which made it possible to have a large roof terrace. Maren and I (Jephte ndr) went to South America to travel, and we spent a lot of time in B&B's. This is when the plan started to take shape to start our own B&B. We wanted to create a meeting place and a platform for all kinds of people from all over the world. We are working hard to make our dream come true to combine a B&B and a Design Studio where we meet people, and sell our own Designs. The B&B will become our own shop-window where we show our vision, made up by all the stories we learned from all the people that stayed with us.
– I find your room with the small terrace on the roof really fascinating: where did you find the materials to decorate your hotel (especially the textiles)? Where the design furniture and home decor elements?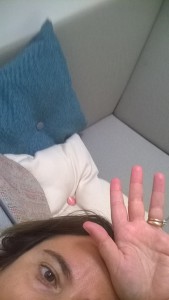 All of the furniture that is in the B&B has been designed and made by ourselves  and are available to order for guests.  The textiles are from "De Ploeg" the company where Maren works. Another feature that will be realized in the near future is a small scale "shop" where guests can buy things designed by us, things that they liked, and that they were able to test for themselves in our B&B. (think about bed linnen, lamps, postcards etc.)
– Useful and performing Wifi, Netflix and delicious your breakfast: are you thinking to add further services that makes the journey pleasant for your guests?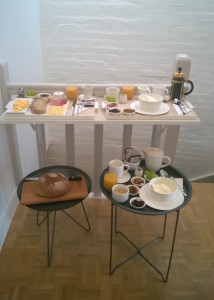 We are constantly improving our services, listening to the desires of our guests. The room rates are all inclusive; so no hidden costs. This way, travellers can relax, and enjoy breakfast, free parking, Netlfix, and many more features. One of the things we are working on right now, is a workshop and a Design office where our guests may have a look and see and feel the work of a designer.
– A few suggestions to activities to do near your place in Eindhoven: a shop, a trip, a fair/exhibition, a secret trick.
Here are our suggestions:
Visiting the factory and store of Piet Hein Eek a famous Dutch Designer.
Visiting the Philips Museum
Every year there's the Dutch Design week, showing the best of Design from The Netherlands, throughout the city, October.
Every year there's a light art festival called "GLOW" and this year it has it's 10th anniversary. It has grown huge, attracting over 600.000 people in one week. People come and visit from all over the country. 
For shopping: Urban Shopper is a nice area with several small shops in one area. It is in the Strijp-s area where all kinds of innovative business areas are being housed in old Philips factory buildings.
To eat our:
De kazerne a unique design gallery and restaurant in the centre of town.
Het Ketelhuis, a restaurant, bakery and coffee bar, also sometimes cabaret shows. It is located on Strijp-s.
Near Eindhoven: Van Gogh Museum, in a small village very close to Eindhoven, there is a museum about the famous painter, because he was born here. There are a lot of places in the area which you can see on his paintings.
We must thank Jephte for answering to our questions. Now we know that there's a lot to see in Eindhoven next time will go the Netherlands!
Vai qui se vuoi leggere la versione italiana dell'intervista.